---
 FOOT HEAVEN STARTS HERE... 
Nittoro Slides are super soft, super thick, & insanely comfortable. Just imagine walking on pillows all day!
With super thick soles for compression relaxation and injected EVA foam, you'll be walking on an optimal footbed of comfort all day long.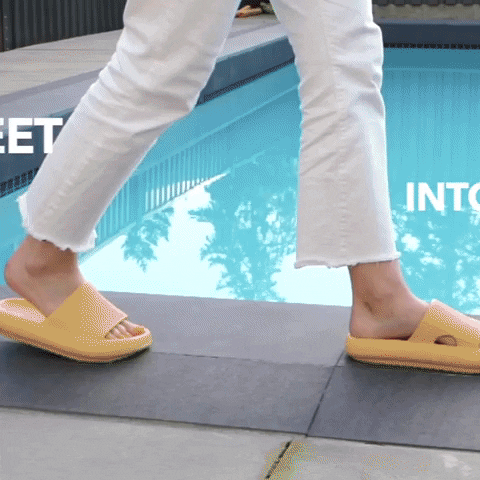 WEAR THEM ANYTIME, ANYWHERE
Manufactured with an outer sole of accentuated grooves, you'll get immediate traction and foot support while wearing your nittoro slides. Get a tan at the beach, lounge around the house, or take a dip in the pool in them! 
Nittoro Slides combine versatility, with comfort. Grab a pair of slides for indoor & outdoor activity and bask in endless comfort!
ERGONOMIC SLIDES
Having Troubles With Foot And/Or Joint Pain? Get instant relief when you slip on your new slides! Nittoro slides are angled at 15° from heal-to-toe to give you an equal balanced pressure from your feet up to your hips.
With raised edges on the lip and heal of the slide, you'll get incredible foot support & a super comfortable fit unlike every other classic slipper!
MADE FOR ALL-DAY COMFORT 
Injected with 4.5cm thick EVA, anti-chafe material; your feet are supported, and your toes are protected from any painful chafing or blisters from all-day wear. 
Whether you decide to go socks or no socks, you'll be walking in 12+ hours of soft comfort for days on end ☁️. 
ANTI-SLIP!
Nittoro slides are designed with anti-slip textured material. So, if you find yourself approaching a set of slippery staircases or treading down a spooky dark hallway this halloween, you wont have the worry or fear of missing a step!
Not to mention, Nittoro slides are super lightweight, you won't even notice your wearing them 
SIZE CHART:
Why EVA?
Material: EVA (ethyline vinyl acetate)
EVA does not require a plasticizer and is BPA-free, so it is considered a safer alternative material. The Center for Health, Environment and Justice (CEHJ) recommends EVA as a safer alternative to PVC-free plastic.
✔️ Unisex
✔️  improves circulation
✔️ EVA aids in reducing muscle pain
✔️ Ideal for plantar fasciitis 
Don't worry! We will send you a replacement piece; however you must notify us within 72 hours of delivery.
First, settle the sand:
First, make all the sand fall to the bottom of your Therascape™.
Shake it:
Gently shake your moving sand art until smaller bubbles form within the frame.
Rotate:
Now your Therasape™ will have a longer and more relaxed flow.
Each Therascape™ is properly adjusted before they leave the factory to have gratifying airflows right out of the box! Give your Therascape™ a gentle shake if you notice your bubbles are getting too big and the sand starts to fall faster.
If you would like to manually adjust the airflow, there are tiny holes around the edge of your Therascape™. Here's how to do it:
WITH Needle/ Syringe:
If sand falls too fast; this means the bubbles are too big. We suggest slowly removing air.
If sand falls slow or not at all; this means the bubbles are too small. First we recommend to shake, then try adding air slowly into your sand art.
(Syringe included in packaging)
Although some variants may resemble painted wood, the frame is made of high density plastic.
Free shipping is included to orders worldwide.
Due to the current outbreak of COVID-19, our team is working overtime to prepare and ship out your orders in a timely manner. Orders may take up to 1-3 business days to process for shipping. Once shipped, it takes between 7-15 days to receive your order depending on your country. Orders are shipped daily Monday-Friday. Orders placed on a Saturday and Sunday will be shipped out Monday.
PLEASE NOTE: Due to the COVID-19 pandemic; we, along with other fulfilment partners have taken extra precaution to ensure the safety of our employees. Please be advised, although we are working hard to fulfill your orders, you may experience longer than usual processing & delivery time.